Business Group
RBC Transport Dynamics
RBC Transport Dynamics
...
Contact Us
Note: Messages will be sent to RBC Transport Dynamics only
GET IN TOUCH
Send us a message
About RBC Transport Dynamics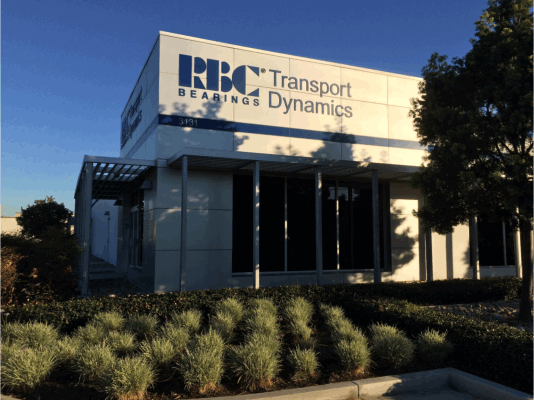 RBC Transport Dynamics (TDC) was founded in 1955 and is located in Santa Ana, CA. RBC Transport Dynamics is recognized as the World Leader in self-lubricating liner systems™.TDC was the original inventor of the self-lubricating lined spherical bearing, with the first application developed in 1957 for the Chevrolet Corvette suspension joint.Boeing later adopted this newly developed self-lubricating liner technology, and soon it was used extensively throughout the aerospace industry.TDC designs and manufactures a full line of plain bearings, rod ends, journal bearings (bushings), spherical bearings, links, and specialty assemblies.

Plain bearings are primarily offered with our proprietary PTFE self-lubricating liner systems, although metal-to-metal options are also available. Transport Dynamics offers over 50 different proprietary self-lubricating liner systems. The correct liner system is selected based upon the load, wear, and temperature conditions in the application. These self-lubricating liners include TDC's Fibriloid® liner which is universally recognized as the Gold Standard of self-lubricating liner systems. A TDC liner can be bonded to almost any metallic substrate to provide a fretting buffer as part of TDC's "Bond Only" service to our customers. Additionally, TDC liner performance can be enhanced through the use of hard, smooth coatings that can be applied to mating bearing surfaces. For highly loaded applications the Fibriloid® liner which is SAE AS81820 and AS81934 Type A (100,000 cycles) approved is the preferred standard. The proprietary Fabroid®X liner system is the most widely specified self-lubricating liner for high temperature applications (in excess of 600°F).

TDC manufactures plain bearings in conventional swaged outer race configurations, or as load slot entry configurations. The aerospace grade materials used includes; 440C, 17-4PH, 15-5PH, PH13-8Mo, Stellite®, Inconel®, titanium and aluminum. Other material options are readily available.

The breadth of applications serviced includes; aircraft gas turbine engines, commercial and military aircraft, helicopter, landing gear, space vehicles, alternative energy (ground power & wind) and military/defense, including hypersonic missiles. TDC is considered to be an Engineered Solutions Provider with extensive applications engineering and testing support.

The core competencies of TDC include; milling, grinding, swaging, bonding, special processes (passivation, cadmium plate, dry film lubricant, High Velocity Oxy Fuel (HVOF) coatings), staking and extensive non-destructive testing (NDT). TDC is a multi-year Boeing Performance Excellence Award (BPEA) winning supplier to Boeing.

Trademark Information
Inconel® is registered trademark of Inco Alloys International Inc., Corp. of Huntington West Virginia
Stellite® is a registered trademark of Kennametal Inc. of Latrobe, Pennsylvania

Products
Our Products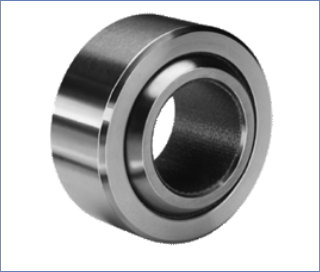 MS Spherical Bearings, Transport Dynamics

Self-Lubricating Spherical Bearings qualified to AS81820.

There are 4 part number series:
MS14101 (Narrow Grooved)
MS14102 (Wide Chamfered)
MS14103 (Wide Grooved)
MS14104 (Narrow Chamfered)
The "AS" prefix Procurement Specification are direct equivalents.
Typical Applications:
General Purpose (Broad Range)
Contacting Lip Seals offer positive retention of lubrication and exclusion of contaminants.
Aircraft – flight controls, landing gear, aircraft doors, engines
Industrial
Features:
Maintenance Free – no intervening maintenance (re-lubrication).
Also available Type A approved (100,000 cycles) featuring the proprietary Fibriloid® liner which is recognized as the Gold Standard in the aerospace industry.
Temperature Range: -65°F to +325°F
Corrosion Resistant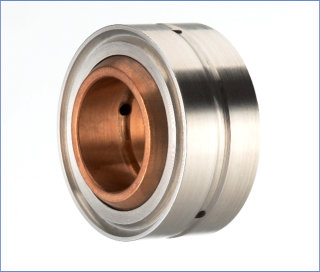 Spherical Plain Bearings, Transport Dynamics

We offer a full line of Standard and Custom Spherical Plain Bearings both in Metal-to-Metal and Self-Lubricating versions. Configurations include Swaged, Loader Slot, Split Ball, and High Misalignment designs.

Spherical Plain Bearings are best suited for high load, pivoting or angular misalignment and low velocity oscillations in applications such as:
Hydraulic Actuator Rod Ends
Steering Linkage and Suspensions
Articulated Joints
Heavy Equipment and other Severe Duty applications
Benefits Include:
Supports higher loads than rolling element bearings
Smaller size for the same performance as compared to rolling element bearings
Maintenance-free option

World Leader in Self-Lubricating Liner Systems™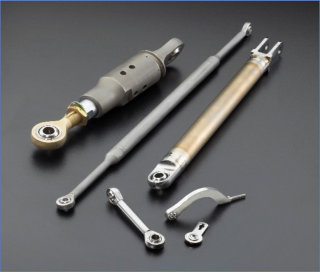 Links and Rod Ends, Transport Dynamics

We offer a full line of Custom Designed Links and Rod End Bearings both in Metal-to-Metal and Self-Lubricating versions. Configurations include Solid Links, Welded Links, Turn-Buckle Rod End Assemblies and Rod End Bearings with Spherical Bearing Cartridges.

Transport Dynamics Links and Rod End Bearings are best suited for high load, pivoting or angular misalignment and low velocity oscillations in applications such as:
High Temperature or High Loaded Linkages
Hard to access Articulated Joints
Steering or Suspension and other Severe Duty uses
Benefits Include:
Maintenance-free versions eliminate the need to re-lubricate and removes the need for lubrication fittings
Corrosion Resistant
High Strength and Ductility
High Temperature Capability
---
Location(s)
Locations (click on Directions):
---
Contact Us
Note: Messages will be sent to RBC Transport Dynamics only
GET IN TOUCH
Send us a message