Business Group
Schaublin® SA
Contact Us
Note: Messages will be sent to Schaublin® SA only
GET IN TOUCH
Send us a message
About Schaublin® SA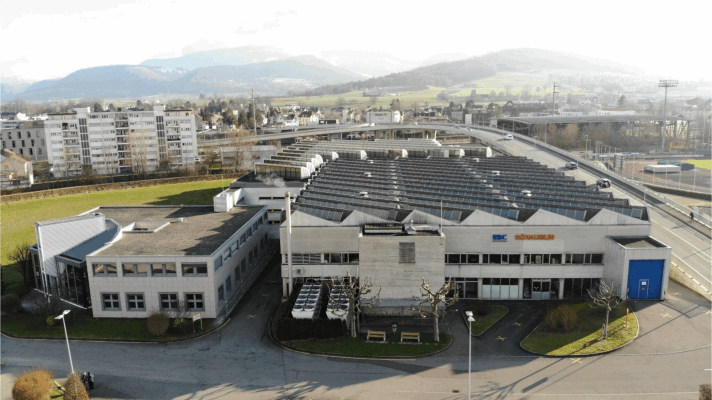 Schaublin SA, located in the city of Delémont, Switzerland, is a company with a rich history that dates back to April of 1915! Schaublin became part of RBC Bearings in the year 2000.

Our expertise is utilized in the three areas we serve,
Clamping tools products (collets, tool-holders and clamping assemblies) for precision grinding and machining
Bearings products (aerospace, rail, defense, and industrial markets)
European Distribution Operation (EDO) for RBC Bearings with a bonded warehouse
The Schaublin Delémont site is the production facility for the clamping tools and bearings product lines. The EDO bonded warehouse is a cornerstone resource for RBC Bearings to service and support European customers. Products manufactured at other RBC companies in the US are also stocked at the Schaublin European Distribution Operation (EDO). Shipping stock from the EDO along with a strong support team at Schaublin provides superior customer service and technical support to our customers located in the European time zone.
Schaublin has a well-trained engineering team to work on with our customers on their challenging clamping tool and bearing application needs.
Schaublin produces a full complement of plain bearings designs including journals (bushings), spherical bearings (swaged, entry load slot, split ball, split race), rod ends, and specialty designs. Products are available in both self-lubricating lined and metal-to-metal configurations.
Schaublin is ISO9001, and EN9100 accredited, and is approved for International Railway Industry Standard (IRIS), and Swiss Federal Office of Civil Aviation (FOCA) Part 145 Maintenance Organisation Approved.
At Schaublin SA, we strive to continually improve our services and provide product design solutions to the various markets in which we are active. We are pleased to assist you in your business development by becoming one of your main partners. Do not hesitate to contact us.
Please visit our website below.
www.schaublin.ch

Products
Our Products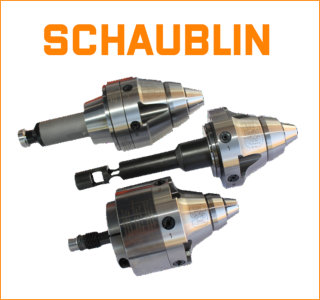 Runout Adjustment System, Schaublin

Description:
With our SRS system, you can easily improve the precision of the SCHAUBLIN collets by reducing the runout.

The design of the system allows the adjustment of eccentricity and angular error without complication and with only one indicator.

The SRS system has many functions and there are possibilities to adapt it to other machines.

Main Applications:

Material holding in Tool-grinding
Material holding in Grinding
Material holding in Turning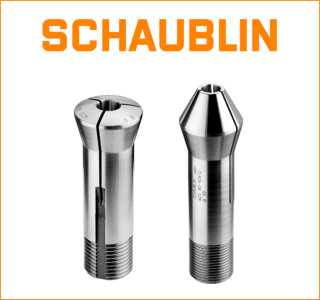 W-Collets (Draw-In), Schaublin

Description:
These collets clamp by being drawn back into the collet seating with the axial movement of the drawbar.

The collets only open a minimal amount and clamps the nominal diameter.

To obtain optimal concentricity, it is recommended not to clamp less than 0.1 mm below the nominal diameter.

Main Applications:
Principally recommended for toolroom lathes and high precision machines.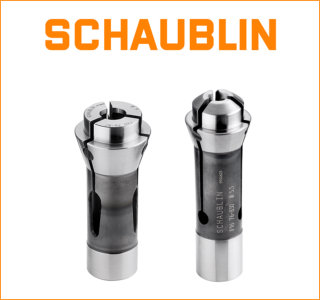 F-Collets (Pushed), Schaublin

Description:
Clamping is achieved either by pushing the collet into its seat by means of a nut, or by pushing a sleeve around the collet taper towards the lock nut.

Round bores are smooth up to 8,99 mm diameter, and from 9 mm and larger bores are grooved. The profiled bores are smooth, with some exceptions where the bore is grooved from 14 mm.

In the released position, Dead Length Collets open above the nominal diameter

Main Applications:
Swiss-type machines (décolletage) where SCHAUBLIN is universally known for precision, surface quality and rigidity.
---
Location(s)
Locations (click on Directions):
---
Contact Us
Note: Messages will be sent to Schaublin® SA only
GET IN TOUCH
Send us a message