Business Group
PIC Design®
Contact Us
Note: Messages will be sent to PIC Design® only
GET IN TOUCH
Send us a message
About PIC Design®

PIC Design was founded in 1954, operating as Precision Industrial Components, LLC. PIC Design was the first company to satisfy the need for pre-engineered gear products in the United States and was one of the original mechanical component "catalog" companies, inspiring many imitators. As the pioneer and leader in the field of precision gears and mechanical components, PIC has always maintained a very high standard of quality and service. PIC continues to stand above the competition by expanding beyond its diverse range of gear products, offering a one-stop shop for precision, high quality mechanical components.

PIC Design is located in the Naugatuck Valley of Connecticut, an area known for its diverse manufacturing base. Our facility is equipped to manufacture your custom designs or high-volume orders. PIC Design's experienced staff supports our reputation for quality, evident by our loyal family of customers.

In 2008, PIC Design joined RBC Bearings, a leader in the world of highly engineered bearing products. PIC Design's manufacturing and applications engineering experience, combined with RBC Bearings' global technical resources, provide our customers unsurpassed capabilities to satisfy their application demands.
PIC Design® Products
Precisions gears (spur, miter, bevel, helical, gear racks, worms & worm wheels, anti-backlash gears)
Gear assemblies, reducers, gearboxes
Precision dowel pins
Shoulder screws, fasteners, captive screws
Ball screws and accessories
Timing and positioning belts, and stainless steel chains
Clutches and brakes
Collars and clamps
Couplings and U-joints
Bearings (precision miniature ball bearings, rod ends, bushings, cam followers, thin section ball bearings)
WHY PIC DESIGN®?
Application Engineering. Our engineers, if requested, will optimize your design to assure manufacturing feasibility. They'll also advise you on methods to simplify manufacturing and hold the line on costs.
Program management. Using computer technology, we track your order's progress in real time. This ensures you get your delivery on schedule!
Using our state-of-the-art production techniques, we can supply you fast turn-around on large-volume orders.
We have a wide array of sophisticated testing equipment, capable of meeting the tightest specifications and standards.
Quality Assurance and Inspection. From incoming inspection, through work in process, to the final stage, our products are rigorously examined as part of our Quality Assurance and Inspection program.
We know how to help you minimize handling and maximize product protection. We'll custom-pack your order so that it's ready for use from robotics to storage.
PIC's systems are capable of providing traceability from raw material to finished products' as required.
Quality and precision. PIC Design's gear manufacturing and applications engineering experience combined with RBC Bearings' global technical resources provide you with unsurpassed capability to address your application requirements.
Please visit the PIC Design website: www.pic-design.com

Products
Our Products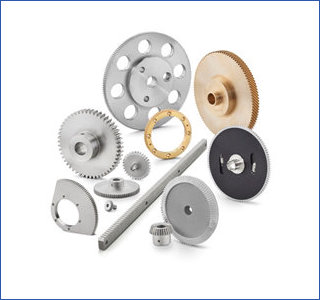 Gears, PIC Design

PIC Design provides precision fine pitch gearing solutions for mission critical applications. Our offering of gears includes: Spur, Anti-Backlash, Cluster, Helical, Miter & Bevel, Worm & Worm Wheels, and Gear Racks. Our unparalleled product quality, responsiveness, and technical support provide our customers solutions to their toughest precision gearing challenges.

Typical Industries Served:
Medical and Dental Equipment
Military and Defense
Laboratory Equipment
Precision Industrial Controls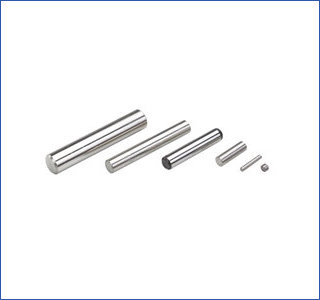 Dowel Pins, PIC Design

PIC Design specializes in high-quality, precision stainless steel dowel pins. Dowel pins are a fastening device used for alignment or to hold parts together in an assembly or fixture. They can also be used as locators so that a part can be removed and will retain its accurate location when replaced.

The following specifications define our standard dowel pins sizes, fit specifications and materials options: 
Diameter: 1/32'' to 1/2'', 1 mm to 12 mm
Length: 3/32'' to 1 ½'', 3 mm to 50 mm
Fits - Slip, Press/Interference

Slip Fit: The dowel pin has a smaller diameter so that it freely slips into the hole
Press Fit: The dowel pin has a larger diameter and must be pressed into the hole
Tolerance: Slip (+.0000/-.0002) and Press Fit (+.0002/-.0000)

Standard Material: 303 Stainless Steel, 416 Stainless Steel - Hardened to 36-42Rc, Carbon Steel - Hardened to 60Rc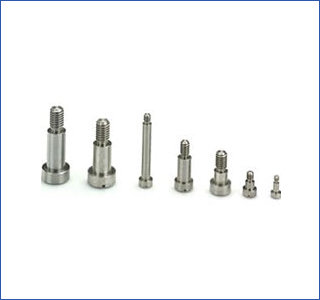 Shoulder Screws, PIC Design

Shoulder screws are typically used as fasteners to join two pieces of an assembly where maintaining alignment is critical.  The requirements and constraints of a project sometimes call for a standard shoulder screw, however, PIC Design also offers custom shoulder screws when necessary.

Standard screws are available in the following dimensional ranges:
Shoulder Diameter: 1/8'' to 1/2'', 4 mm to 12 mm
Shoulder Length: 1/8'' to 1'', 4 mm to 25 mm
Head Style: Socket, Phillips, or Slotted
Standard Material Options: 303 and 416 Stainless Steel
---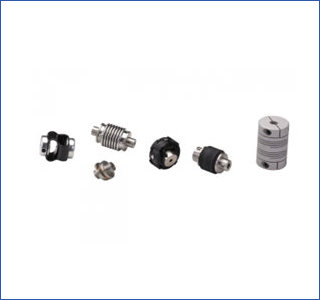 Couplings, PIC Design

PIC Design carries a full range of flexible coupling options, manufactured and supplied with or without corresponding shafting. Specialized in high-misalignment, PIC Design's coupling products feature a wide range of styles and types to suit almost any application.

Each coupling is available with clamp, pin, or screw attachment configurations. PIC Design Coupling types are as follows:
Rigid Couplings (Set Screw and Clamping)
Elastomer Jaw
U-Joint
Wafer Spring
Oldham
Bellow
Sleeve
Universal Lateral
Zero Backlash
Angular Misalignment
Multi-Jaw
Helical
Location(s)
Locations (click on Directions):
---
Contact Us
Note: Messages will be sent to PIC Design® only
GET IN TOUCH
Send us a message