Business Group
RBC Southwest Products
RBC Southwest Products
...
Contact Us
Note: Messages will be sent to RBC Southwest Products only
GET IN TOUCH
Send us a message
About RBC Southwest Products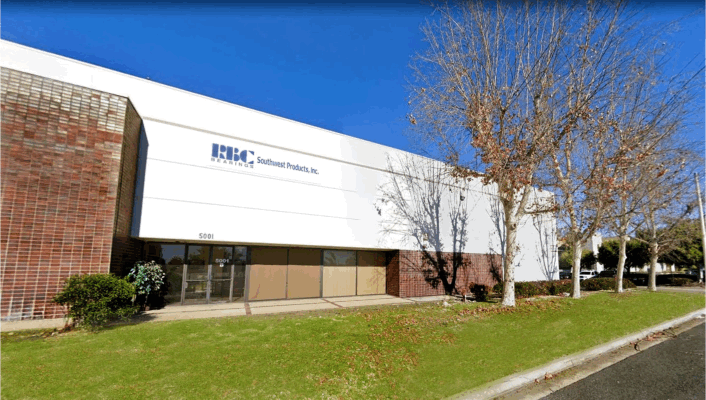 RBC Southwest Products (SWP) was founded in 1945, and is currently located in Baldwin Park, CA. RBC Southwest Products is recognized as an agile flexible supplier of larger custom designed, complex bearing assemblies. In 2006, US Bearing was acquired by RBC Bearings, and was merged into RBC Southwest Products.

SWP designs and manufactures a full line of plain bearings including split balls, rod ends, journal bearings (bushings), spherical bearings, specialty assemblies, and solid and welded links. Plain bearings are offered with our proprietary PTFE self-lubricating liner systems, or as metal-to-metal designs. The selection of the proper self-lubricating liner system is based upon the load, wear, and temperature conditions of the application. SWP manufactures plain bearings in conventional swaged outer race, or load slot entry configurations. The aerospace grade materials used include; 440C, 17-4PH, 15-5PH, Stellite®, Inconel®, Custom 465®, titanium, and aluminum. Other material options are also readily available.

The breadth of applications serviced include commercial airframe, landing gear actuation systems, space vehicles, marine, alternative energy (ground power & nuclear), and military/defense, including hypersonic missiles. SWP is known as an Engineered Solutions Provider with extensive applications and testing support. The proprietary Dyflon® self-lubricating liner system is widely specified for US Navy submarine applications.

The core competencies of SWP include; milling, hard coat surface grinding, swaging, bonding, honing and lapping. There are various coating options available such HVOF (High Velocity Oxy Fuel),Dry Film Lubricants, Hard Chrome, Cadmium, Zinc Nickel, and numerous others. SWP is a multi-year year Boeing Performance Excellence Award (BPEA) winning supplier to Boeing.

Trademark Information
Inconel® is registered trademark of Inco Alloys International Inc., Corp. of Huntington West Virginia
Stellite® is a registered trademark of Kennametal Inc. of Latrobe, Pennsylvania
Custom 465® is a registered trademark of CRS Holdings, Inc. of Wilmington, Delaware

Products
Our Products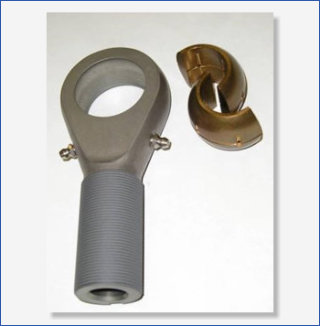 Split Balls, RBC Southwest Products

RBC Southwest Produces offers a full line of Standard and Custom Split Balls both in Metal-to-Metal and Self-Lubricating versions. Configurations include Spherical Bearing, Rod End, or Special Housing with a ball split in half.

Typical Applications:
Landing Gear
Control Systems
Accessible Areas
Advantages / Benefits:
Excellent conformity spherical ball to race
Ball can be replaced without removing entire assembly
No risk for ball cracking or race spring back effect
No limitation in material choice & surface treatment
Size optimization for weight, housing stiffness, or bearing capacity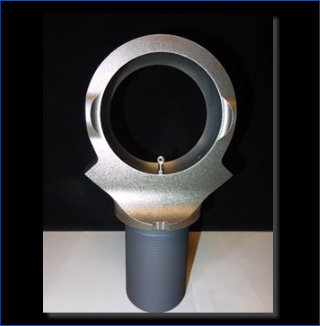 Large Spherical & Rod End Bearings, RBC Southwest Products

Custom manufactured Spherical Plain, Rod End Bearings and Links in both Metal-to-Metal and Self-Lubricating versions. Configurations include Swaged, Loader Slot, Split Ball and High Misalignment designs.

Sizes up to 30" OD.

- Designs using standard and exotic materials including hard coatings.

Typical Applications:

Flight Control Actuation
Very Large Hydraulic Cylinders
Large Heavy Construction Equipment and Loaders
Power Plants
These unique large bearings are used in extremely high load applications where pivoting or angular misalignment is required. Our Unique High Capacity Forming Equipment allows us to provide swaged bearings with higher load ratings than similar sized machined parts. Agile flexible machining also allows for small production lots.
---
Location(s)
Locations (click on Directions):
---
Contact Us
Note: Messages will be sent to RBC Southwest Products only
GET IN TOUCH
Send us a message