Business Group
Climax™ Metal Products
Climax™ Metal Products
...
Contact Us
Note: Messages will be sent to Climax™ Metal Products only
GET IN TOUCH
Send us a message
About Climax™ Metal Products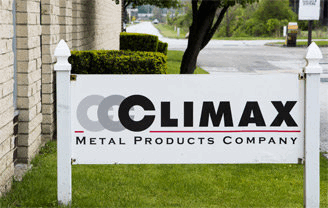 Since 1946, Climax Metal Products Company has grown into the leading source for engineered shaft locking solutions by providing outstanding customer service through trusted distributor partners. Climax Shaft Collars, Rigid Couplings, and Keyless Locking Devices are manufactured with unsurpassed quality and stocked by distributors throughout North America.

Climax's manufacturing facility is located in Mentor, Ohio. Climax has always strived to solve problems and educate the industry on likely dilemmas and solutions we can provide.

In 2013, Climax Metal Products was purchased by RBC Bearings, a leader in the world of highly engineered bearing products. Climax Metal Products' knowledge of power transmission components and service in the distribution market, combined with RBC Bearings' global technical resources, provide our customers unsurpassed capabilities to satisfy their application demands.
WHY CLIMAX™?
Outstanding Customer Service. Our company puts customer service above all else retaining excellent relationships with our key distributors and customers.
Quality and Engineering Expertise. Our world class engineering team regularly designs custom products and solves complex application problems for our customers
Fast Delivery. We keep a wide breadth of products on our shelves so that our customers can expect a fast turnaround time from order to shipment.
Fair Market Pricing. We regularly do our due diligence to ensure that our pricing is competitive in the marketplace.
Technological Innovation. We lead the way in innovation through system integration, resource management systems, and front-end knowledge-based communication.
Please visit the Climax Metal Products website: www.climaxmetal.com

Products
Our Products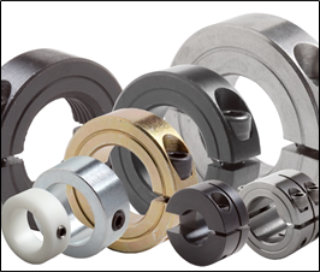 Shaft Collars, Climax Metal Products Company

Climax Metal Products Company manufactures a broad assortment of Shaft Collars to suit a wide range customer applications

Climax Shaft Collars fit shaft sizes:
Imperial – 1/16" to 6"
Metric – 2mm to 80mm
Shaft Collar material choices:
Mild steel
303 or 316 stainless steel
Aluminum
Acetal
Steel collars are available in multiple finishes:
Black oxide
Clear zinc plating
Yellow zinc dichromate plating
Uncoated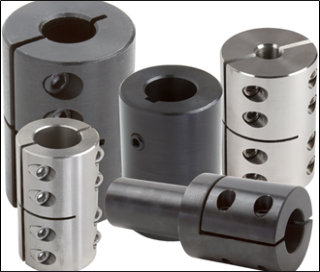 Rigid Couplings, Climax Metal Products Company

Climax Metal Products Company manufactures a broad assortment of Rigid Couplings to suit many customer applications

Climax Rigid Couplings fit shaft sizes:
Imperial – ¼" to 2 ¼"
Metric – 6mm to 50mm
Our Rigid Couplings are made from:
Mild steel with a black oxide finish
303 stainless steel
Alumin (limited offering)
Couplings are manufactured both with and without keyways.

Step-bore couplings are also available to attach two shafts of differing diameters.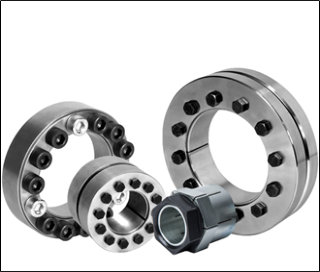 Keyless Locking Devices, Climax Metal Products Company

Climax Metal Products Company is now positioned as North America's leading supplier of Keyless Locking Devices (KLD).

Our KLDs are manufactured under exclusive agreement with MAV S.p.A. of Bosentino, Italy. Together Climax and MAV have over five decades of experience in the design, specification and manufacture of KLDs.

We produce and sell only the highest quality products, with stock available in Mentor, OH, for same-day shipment and attractive lead times for MTO solutions.

Our dedicated customer service and application engineering team stands ready to exceed your expectations for quality, responsiveness and know-how.
---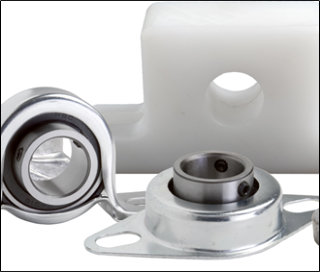 Clesco Mounted Light Duty Bearings, Climax Metal Products Company

Clesco Bearings are designed to provide support for shaft rotation in light duty applications.

Our bearing inserts are available as:
Ball - bronze or UHMW-PE
Housing - zinc die-cast, pressed steel, or stainless steel
Configuration - Either a Pillow Block style or Flange Mount style to fit your particular needs.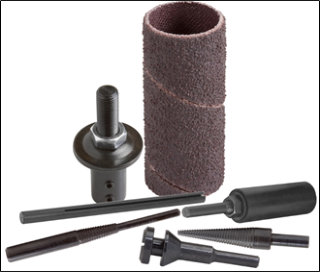 Clesco Abrasive Hardware, Climax Metal Products Company

Clesco offers a tremendous breadth of abrasive products supplying abrasives and abrasive hardware to such industries as woodworking, metal finishing, automotive, jewelry, glass, leather, stone and tool and die.

Our abrasive hardware is used in the manufacturing of cartridge rolls, mounting finishing wheels, and are manufactured from steel with many styles that have a rust-proof plated finish.
Location(s)
Locations (click on Directions):
---
Contact Us
Note: Messages will be sent to Climax™ Metal Products only
GET IN TOUCH
Send us a message